Goods lift consists of hydraulic lift system and other supportive components like steel frame, platform, plate chains and steel ropes etc. As a cheap goods elevator solution for cargo, pallet or car lifting, people can DIY goods lifts as per the site situations. Himor designs indoor and outdoor fixed lift like lead rail type and scissor lift table type for home, warehouse, plants, and mezzanine etc. 2D or 3D lift drawing will be available for clients to confirm the finalized lift design. This hydraulic lift design help with clients install most suitable lift in their sites. Even if you need heavy duty, or big platform size, we all can customize for you.
Commercial Wall Mounted Mezzanine Goods Lift Platform FAQ
Himor goods lifts are mainly for widely usage like mezzaning goods lift, external goods lift and pallet goods lift.  Below are some frequency ask questions of this lift for your reference. We support doing business with trading company, trading man and end users. No matter you are business man, business owner or plant owner, welcome to order lift platforms from Himor in China. 
If the height is lower like under 2m, scissor goods lift is better. Otherwise we suggest to choose lead rail type, which will be ecomonic solution.
If platform size is too big like more than 5m, we suggest to choose scissor lift table type.
Please discuss with our sales team, we will give you best solution.
We produce and export hydrualic lift platforms to people and companies all over the world. We have complete system to help with you buy and import to your country. If you are going to buy cargo lifts from China, please choose a reliable company which has already experienced.
Scissor lift table type is suitable for workshop production line. You can install a line of scissor lift tables.
Scissor lift table is easier to be installed. Lead rail type cargo lift needs to fix with wall and ground.
They all can apply for mezzanine goods lift, external goods lift, and pallet goods lift.
Yes. We provide detailed goods lift installation guide with photos and words in steps. People can install the lift by a 3-7 workers team following our steps.
Please contact with us and we will give you partner information if we have in your local.
Industrial Warehouse Hydraulic Goods Lift Elevator Projects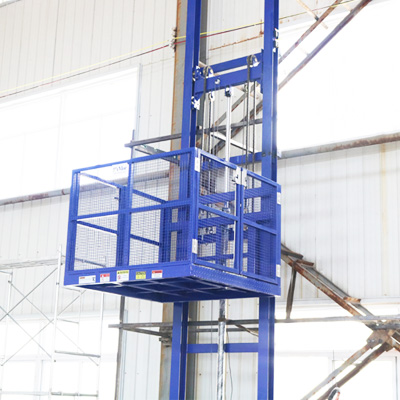 Small goods lift for sale now is Himor's hottest product. Below is a sample lift for our US customer. Before delivery, we …