Vertical mast lift is hydraulic system based aluminum alloy mast man lift for aerial works. Normally Himor mast lifts are single mast lifts and double mast lifts. There are outrigger interlocks to keep safety during aerial working. With compact sizes and light weight, people can push around mast lifts easily. Power resources are AC, DC or dual power. People can purchase this mast lift for personal aerial working or aerial workplatform rental. We produce cheap and durable vertical mast lifts in China and looking for agents all over the world.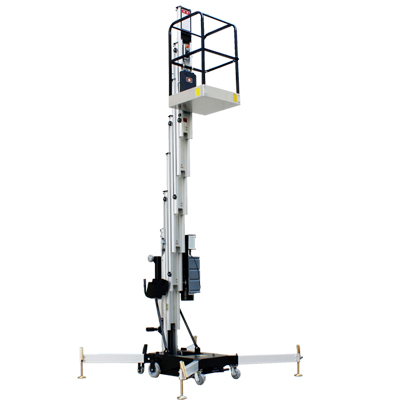 Movement: Push around
Lifting height: 6m-16m
Outriggers with interlock
AC power to platform
DC or Mixed power for option
Emergency stop button
Emergency lowering system
Easy loading in pickup trucks
Two controllers operation
Forklift pockets
Transport tie hole
Deadman Switch
Cylinder holding valve
CE Certification
Price: around USD2,000~USD10,000. Depending on heights and specs.
Single Man Vertical Mast Lift Customer Feedback
What We Do To Make Qualified Push Around Vertical Single Mast Lift?
Each detail of vertical mast lift we produce shows our best quality. We always accept test before delivery. And our vertical mast lifts for sale are in stock now!
Himor Push Around Vertical Mast Lift video
Frequently Asked Question
Related Aerial Work Lifts You May Like