Vertical mast lift is hydraulic system based aluminum alloy mast man lift for aerial works. Normally Himor mast lifts are single mast lifts and double mast lifts. There are outrigger interlocks to keep safety during aerial working. Distinguish between walk way, there are push around mast lifts and self propelled mast lifts. Power resources are AC, DC or dual power.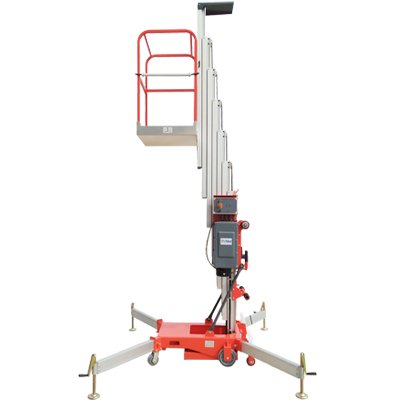 Movement: Manual
Lifting height: 6m-16m
Outriggers with interlock
AC power to platform
Emergency stop button
Emergency lowering system
Easy loading in pickup trucks
Two controllers operation
Forklift pockets
Transport tie hole
Deadman Switch
Cylinder holding valve
Price: around USD2,000~USD10,000. Depending on heights and specs.
Vertical Single Mast Lift Customer Feedback
What We Do To Make Qualified Push Around Vertical Single Mast Lift?
Himor Push Around Vertical Mast Lift video
Frequently Asked Question
Related Aerial Work Lifts You May Like