3ton Hydraulic freight lift project in the Philippines
Project: 3ton Hydraulic freight lift
Model: HGL3-5
Capacity: 3000kg
Platform clean size: 2000*2000mm
Platform guard rail height: 1.1m
Lifting height: 5m
Platform door: 2 pcs wire meth doors
Stops: 3
Headroom height: 3m
Wire mesh: four sides around the lift
Interlocks: comes with interlocks in platform doors and wire mesh doors
Wire mesh doors: 3 pcs in total.
Color: Yellow
Installation place: the Philippines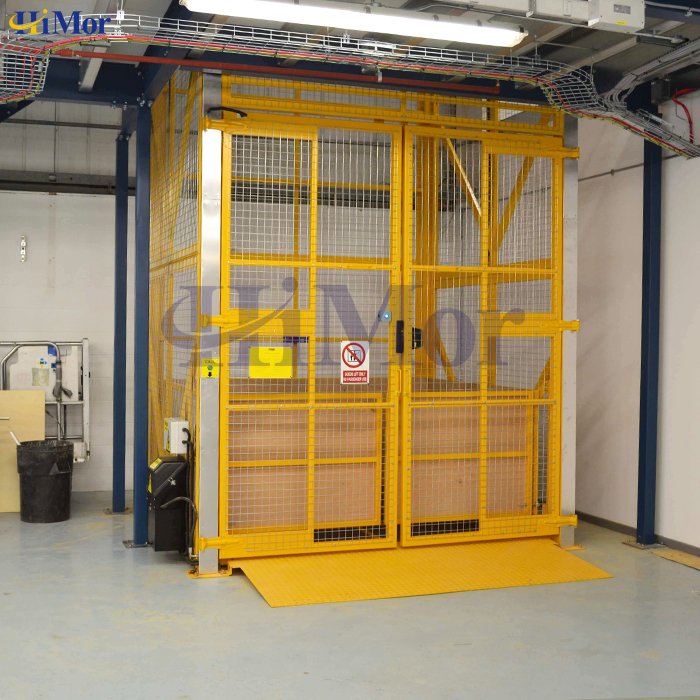 Customer feedback: "We have cooperated with Himor team for years and they are best service team we found from China. During these years, we have purchased 8 lifts from Himor and we are happy to see that the lifts working very well after these years time. "
Make sure where to install the freight lift to deliver the cargo.
Do measurement of that site, including platform lifting height, approximate size you need, also platform capacity.
Send these information to Himor team and wait them to finish the design with quotation.
Discuss the details of the lift standard configurations and optional configurations you need.
Himor team will handle production and delivery for you. You can track the lifts status during whole period.
During installation, Himor workers will assist you remotely by online. Just follow the installation manual they gave to you, then you can do hydraulic freight lift installation very well.
As hydraulic lift platform manufacturer, we are aiming to expend our lift market all over the world. Lift platforms we produce including goods lift, scissor lift table, mobile man lifts, loading ramps, mast lifts, and car lifts etc. These lifts can work normally 5-10 years because of good quality and reliable service from Himor lift team. Please call us +8613026586831 to discuss with us about your lift solution requirements.