Outdoor cargo lift Project introduction
Outdoor cargo lift Model: HGL3-8
Usage: Deliver chemical products
Project position: United Arab Emirates
Lifting height: 8m
Capacity: 3ton
Platform size: 3.5mW*2mD
Platform access direction: front and opposite access
Doors on platform: Manual open wire mesh doors with interlocks
Doors on floors: 2 units wire mesh type landing doors with interlocks
Special configuration: Anti-drop device; up and down front gate for safety
Color: gray and yellow
Painting: Spray Plastic
Installation: Install in pit and fix with wall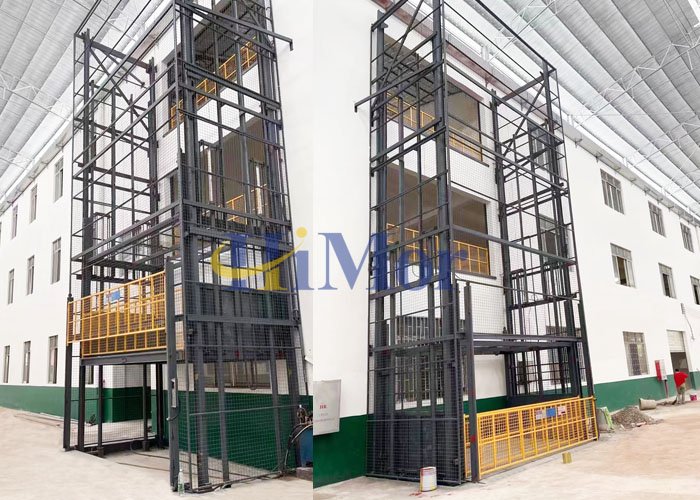 4 important points to install outdoor cargo lift
Firstly, it is better to cover the top of outdoor cargo lift.
Although our machine has a certain level of waterproof, it is best to do some shelter on the top of the machine. The whole body of the machine is made of steel. If there are some bumps that cause the paint to fall off, it will rust when it rains after a period of use. Just like this project, the customer made a shed above the whole machine.
Secondly, use IP65 or IP67 degree electric cabinet.
We all know that the higher the waterproof level, the safer the electric control box will be when it experiences rain. Himor's standard electric cabinet for exterior cargo lift is IP65. In some cases, we also can apply IP67 degree cabinet for the electric components.
Thirdly, choose those cargo lifts with a higher level of paint finish.
In the goods lift products industry, there are various paint grades. Some companies choose general paint spraying, and some companies choose manual paint spraying. We choose surface spray plastic treatment, so that the paint stays on the surface of the equipment for a longer time. Before that, we need to do a good job of rust removal on the surface of the equipment, which is more conducive to the adhesion of paint to the surface of the equipment.
Finally, do a good job of waterproofing the pit.
If you need to make a pit for the equipment, you need to do a waterproof pre-treatment for the pit. For example, pre-buried installation parts and drainage pipes at the bottom of the pit. Because there are oil pipes and wires passing through the bottom of the machine. After the drainage pipe is done, when there is water, the water can be discharged smoothly. The bottom of the pit should be a 200mm-400mm thick cement structure.
In conclusion.
After doing the above four points well, we can safely install the hydraulic lifting platform outdoors. You can install it in your factory, warehouse, workshop, shop, etc. where it needs to be installed. You can use it to lift pallets, goods, vehicles, materials and more. If you have any needs for cargo lifts or design confusion, please contact us in time. Our technical team will cooperate with you in time and give a design plan according to your on-site situation. We have many different projects all over the world, please review from the PROJECT channel.
Customers can reach Himor team through email [email protected] or online whatsapp+8613026586831. We receive and reply messages from Monday to Sunday.