Electric scissor lift is self propelled type electric drive man lift with scissor structure. It can walk forwards, backwards and turn around by it's self. We also name it as electric man lift, and self propelled man lift. With all safety measurements, it can drive safely on different heights. People usually use it to do indoor maintenance and paiting work.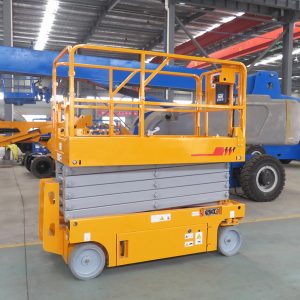 Quiet and Convenient Devices
Compact Structure
Larger Working Space
Swing-out Tray:
Hydraulic motor wheels
Electrophoresis surface
Platform electricity
Pothole protection
Full height driving
Self Propelled Scissor Lift Customer Feedback
What We Do To Make Qualified Electric Man Lift?
Himor Self propelled Scissor Man Lift Working video
Related Aerial Lifts You May Like