Small goods lift for sale now is Himor's hottest product. Below is a sample lift for our US customer. Before delivery, we can do pre-install in our factory. After customers receive the video and photos, then will be happy to see the lift by themselves. In this article, we will show you this sample lift and why you can choose Himor as your goods lift supplier.
USA project main data
Lifting height:16 feet
Capacity: 1000lbs
Platform size: 5feet by 5feet
Motor: Silent motor for indoor application
Pump station: hydraulic pump station
Control mode: 2 digital control panels plus general cabinet
Color: Dark blue
Pre-install: Done in Himor's plant
Packing: plywood packing for sea shipment
Production period: 20 working days
Delivery destination port: Chicago, US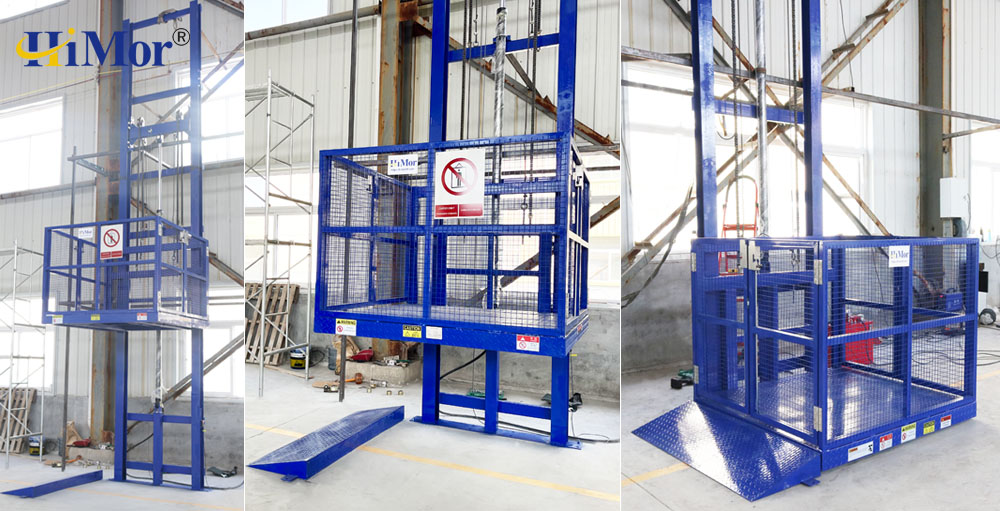 Where to install this hydraulic lift platform?
This kind of lift platform has some usage scenarios for your reference. For example, in a warehouse, goods need to be transported between floors. Deliver items or pallets to the deck in the store. Deliver materials or products to higher floors in the production workshop. In some small spaces, people need simple lifting equipment to transport goods, etc. The lifting equipment used in these scenarios is within our design and production scope. We design and produce according to each use environment and customer requirements, and guide customers in installation.
If there is no machine space, no pit on ground, or space is limited, you all can find Himor lift to customize a hydraulic lift. Our design is flexible enough for your industrial request and residential request. Also, this type small goods lift for sale is a good replacement for traction motor elevator. As we all know an elevator is expensive to buy and difficulty to install. So you can choose from hydraulic lifts if you only needs to lift up goods not people.
Why choose Himor brand small goods lift for sale?
There are 3 good reasons for this question.
Firstly, We own this famous hydraulic lift brand in China. Himor is a brand we have registered and used for many years. Only lifting equipment with regular brands is reliable.
Secondly, we have sold lifts all over the world and customers have given very positive feedback over the years. In their feedback, our equipment is durable, maintenance-free, easy to install, economical and environmentally friendly. Contact us, we can give you some customer record for real reference. Himor lifts' prices are reasonable and very cheap compared with bigger ones. In order to gain more clients all over the world, we only keep little profit for each lift, and give customers best prices. Most of the small goods lifts are only cost thousands dollars.
Thirdly, we provide after-sales service for each machine. Even after the sale is over, we provide free consultation services free of charge. We will guide customers remotely to perform maintenance and upkeep work. In previous communication, we know from some of our clients that they imported some machines from other countries, but failed to contact again when they meet problems. This won't happen in Himor machinery. During after-sales, we will keep online in whatsapp, and email etc., wechat. Also we have registration information all over the network, such as Facebook, Linkedin, Youtube, Pinterest. Customers can find us through any of the above social media.
How to DIY hydraulic small cargo lift?
Firstly, confirm where to install the lift. We need to choose the location carefully. For example, need to install the lift in free position if not in a shaft, and do not block people walk through. And install on even ground which is concreted with enough strength. If indoor installation, we suggest to use Himor silent motor for the best using experience.
Secondly, confirm the lifting height of the platform. The height is from ground to the last stop floor ground, and do not forget about the floor thickness.
Thirdly, confirm the installation space and platform size to carry the cargo or pallet.
Fourthly, confirm the capacity you need the platform to carry. For example, confirm the heaviest cargo, and add some weight on it. If the cargo weight is 400kg, it is better to design a lift with 500kg capacity.
Last step is to do order process with Himor sales team. According to customers' requests, we can do pre-install in our workshop and take lift video and photos. After customer's checking, we will do packing and deliver the lift out by sea to customer. Along with the lift, there is installation manuals to assist customer fixing the lift in site. We also will be online for technical support.
Small goods lift for sale loading test video
How much does a small goods lift for sale cost?
According to lifting height, capacity and platform cage size, the prices are different to each other. Normally 2-3 stops goods lift only costs 3000-5000 us dollars. Also you can choose from various optional configurations like wire mesh enclosure, silent hydraulic pump station, different color, landing doors, safety touch board etc. Our team of designers is very experienced. Can respond to various requests from customers.
Looking for goods lift for sale agent in the US.
Now our company has agents in Asia and Europe. Our clients can purchase from our agents directly without worrying about international trading, installation, and after-service. Likewise, many people are looking for "small goods lift near me". It may be difficult for some people to import from China. So we also hope to have agents in the US market who can cooperate with us. Becoming an agent of Himor can not only get the agency price, but also get more support from our products and technical services. We do hope that companies in the United States, especially those in the lift industry or elevator industry, can contact us. As long as you have marketing measurements, installation team, and after-sales team you will be a good partner to us.
More information about this product, please go to our product details page:>> Small Goods Lift