Glass robot is a moveable robot vacuum machine to solve glazing handling difficulty. We also name it as glass lifter, vacuum glass lifter, glass robot, and glass vacuum lifting equipment etc. With hydraulic system and vacuum system, people can use it holding on the glass and lift it easily for movement and installation.  We can use this robot in many places like construction sites, buildings,plants, homes, workplaces etc. Choose from below models you mostly need for your job.
Himor factory price glass robot adopts intelligent and humanized control methods, and is easy to carry and install large pieces of glass. Its functionality, safety and humanized design have been fully reflected in the field of glass loading and unloading. We are top lift manufacturers in China. It is a combination of high efficiency, convenience and ergonomics. In the process of adsorption lifting, moving, handling and installation, it can effectively avoid the accidental injury of the glass or other materials to the operator.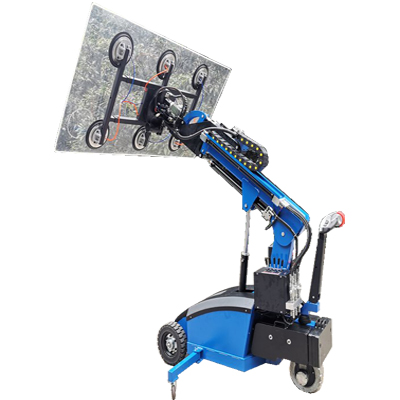 Lifting capacity: 300kg to 800kg
Max. Lifting height: 3500mm
Usage: for sale
Lifting power: DC Battery
Walk power: DC Battery
Lifting system: Hydraulic system
Suction and release: Vacuum system
Wheels: back and front
Outriggers: two sides steel outriggers
Movement: light weight for easy movement
Operation: easy operation with control handle
Application: glass, metal, building panels, granite, etc.
Glass Robot

Multi-angle presentation

and Models
Himor produces standard models of glazing robot vacuum lifter like below shows. Clients can choose from below model table. We also customize platform size, leveler self height, capacity, height adjust range, junk board size, and color etc. Our customization is flexible for your request.
Why we produces better quality glazing robot vacuum lifter?
Double control system. One vacuum system for working and the other for alternate.

Manually vertical rotation 360 degrees

Manually flip horizontal 90 degrees 

Digital display for vacuum pressure switch and battery meter

Maintenance-free battery unit for walk, lifting, suction and release.

Vacuum refill system for balancing during handling process

Adjustable suction cups position

Each suction cup equipped with a separated control valve.

Low electric power automatic protection function

Two sides outriggers for supporting during glass lifting work.
Glass Robot Operation video
More Electric Glass robot Colors for Your Choices
Himor Glass Robot for sale FAQ
According to different models, the prices are around USD9000 to USD13500 per unit. Consult Himor sales team for the latest prices with technical details.
Himor brand glass robot lifter is self movement machine. People only need to control the direction by the control handler. This machine saves a great deal on labor costs.
Please discuss your detailed request with our sales team. And we accept T/T, Paypal, Credit card payment etc. Our sales team will also discuss detailed order process with you. Please just follow our guide and finish the machine import process.