Heavy duty goods lift elevator is one featured product among Himor's hydraulic lifts. We design, produce and sell these lifts to clients all over the world. Below is a brief introduction of one project for reference.
Model: HGL5-3.5
System: Hydraulic
Usage: Deliver iron products
Lifting height: 3.5m
Capacity: 5ton
Platform size: 2.5mW*2mD
Platform access direction: front and opposite access
Encloser: Wire mesh 4 sides around
Doors on encloser: Manual open wire mesh doors with interlocks
Special configuration: Anti-drop device
Installation: Pit-free installation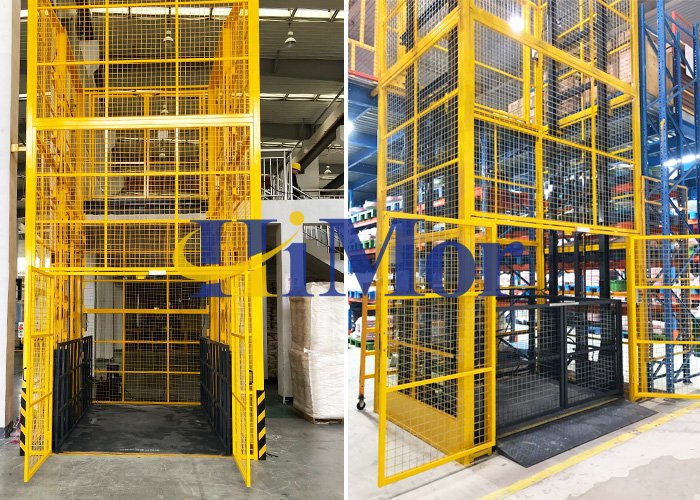 What is the foundation request for heavy duty goods lift elevator?
Firstly, the best choice for the foundation is to make a concreted pit, do drainage handling, and reserve some holes for the tubes and electric lines.
In some situation, it is hard to make a concreted pit on ground. As long as the ground is concreted and depth is more than 300mm-400mm, people can fix the heavy duty goods lift on ground directly. Like this project, we can make a ramp for customer to load the pallets onto the platform easily.
Customization range for hydraulic heavy duty goods lift elevator.
In our production history, we have customized goods lift capacity from 200kg to 20ton, lifting height from 2m to 24m, platform size from 1m to 10m. Please collect your request for this lift, and handle design request to Himor engineering team. According to different request, our designs are single side lead rails, double side lead rails or four group lead rails.
How to confirm what capacity do i need for this heavy duty cargo lift elevator?
Because that the lift price is determined by it's height, capacity and platform size, so we suggest to calculate the goods package and weight firstly.
If the packages or pallets are delivered by forklifts, then we need to add the forklift weight.
To reserve some higher capacity. For example, you want to deliver one pallet at one time, and the pallet is 1500kg, then you can order a lift with capacity 2000kg.
Meanwhile, Himor provides online and email communication ways. Please discuss with us regarding your requests from whatsapp+8613026586831 or email sale[email protected]. You can also find us via our official facebook:Facebook