Scissor lifting platform is Himor's featured heavy duty scissor lift for big size cargo and cars lifting. Big platform and heavy duty are it's distinguished feature compared to other type hydraulic platform lifts. Our customers generally use it in workshops, factories, 4S stores, and even at home. If you need a hydraulic lift that platform is larger than 2 meters or even 20 meters, this device is the best choice. We have many best designs and projects all over the world for your reference.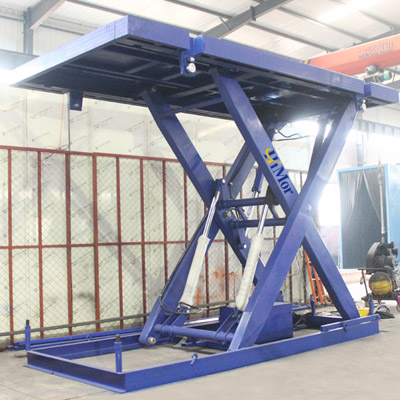 Height:  suggest 2m-5m (6ft-16ft)
Heavy duty: 1000kg-100ton 
Platform size: 1m-20m
3D drawing provided 
Hydraulic system
Multi-layers waterproof controllers
Linkage of multiple devices available
Low profile structure available
All sizes customization
All complicated design available
All third-party testing acceptable
Design Fee: No charge
Prices: from USD3,000~USD30,000. Depending on sizes.
Scissor lifting platform Projects and Reference Models
What We Do To Make Qualified Scissor Lifting Platform?
Heavy duty Scissor Lifting Platform Working video
Heavy Duty Hydraulic Platform Lift Table FAQ
Related Lift Tables You May Like