Mezzanine goods lift project
Project: 3ton mezzanine goods lift
Model: HGL3-5.5
Capacity: 3000kg
Platform clean size: 2000*2000mm
Guard rail height: 1.1m
Platform lifting height: 5.5m
Emergency stop: Yes
Manual decline: Yes
Platform door: 2 pcs wire mesh doors with interlock
Stops: 2
Headroom height: 3m
Wire mesh: four sides around
Interlocks: comes with interlocks in platform doors
Color: Gray
Installation place: China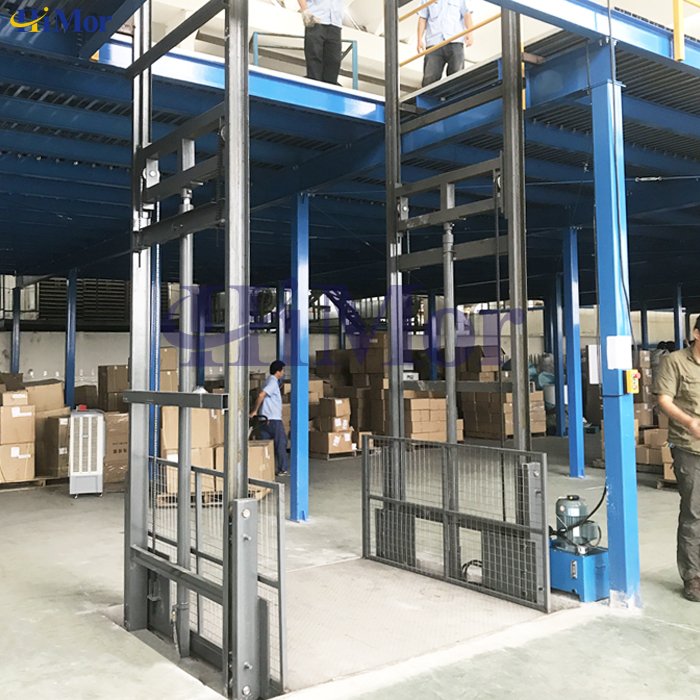 Mezzanine goods lift, which we also name it mezzanine cargo lift, mezzanine lift, mezzanine pallet lift, mezzanine elevator, mezz goods lift etc, is a lift platform solution for mezzanines in your warehouse, plants, and workshops.
Comes with strong steel structure, we can fix mezzanine goods lift to ground, walls or floors by vertical. Some fix points for the lift body will do. Such as each stop position.
Mezzanine goods lift uses hydraulic cargo lift system, which is electric power input and hydraulic pump station work at the same time. As long as there is electric power resource in the site, people can install this goods lift to lift pallets, cargo, or even cars.
How to decide goods lift size?
Firstly, get to know the platform travel height from ground to the end floor ground.
Secondly, make cargo delivery plan, what cargo packing size or pallet size you need to carry up.
Thirdly, get to know what capacity of the cargo you want to carry up.
Last but important, tell all your requests to Himor team, then our engineers can make design for you.
There are normally two types of goods lift, two posts lead rail type and four posts lead rail type, depending on the lift capacity and size. You will see final design after Himor team finish it.
If you are able to install elevators in your local, please contact us to be our agent for our hydraulic lift platform. We would like to assist you been great hydraulic lift supplier. Because it's steady and cheap features, more and more clients asking for this type lifts. Please do not hesitate to write to [email protected] to get lift platform solutions.