Scissor dock lift here we means hydraulic scissor lift table for cargo loading and unloading. We can design hydraulic lift tables capacity from 100kg to 100ton. As loading dock scissor lift, its application is in large range like warehouse, docks, plants, workshops, and shops etc. This hydraulic lift table is OEM type lifts and we can customize all specs according to your request. More questions, please review the FAQs in the bottom.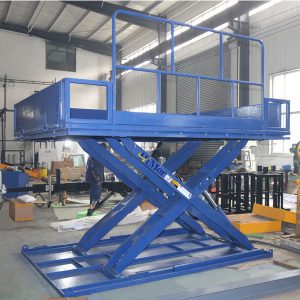 Height:  suggest 0.5m-5m (1.6ft-16ft)
Capacity: 100kg-100ton 
Platform size: all sizes can be customized
3D drawing provided 
Hydraulic system
Multi-layers waterproof controllers
Low profile is available
All sizes customization.
Prices: from USD2,000~USD30,000. Depending on sizes.
Loading Dock Scissor Lift Platform Projects and Reference Models
What We Do To Make Qualified Hydraulic Low Profile Scissor Dock Lift Table?
Options for Scissor Dock Lift Tables
Scissor Lift Table on Wheels
Frame with forklift pockets
Dock Scissor Lift Platform FAQ
Related Goods Lift Platforms You May Like