Hydraulic truck loading bay scissor dock lift is one smaller type of hydraulic scissor lift tables. Because the loading bay and truck height is not so big, the loading bay scissor lift height is normally lower than 1.5 meter. As we all know scissor lifts have some self height like 300mm-1000mm, normally we need to dig a pit to put the lift. Then the top of the lift table will be same level with ground.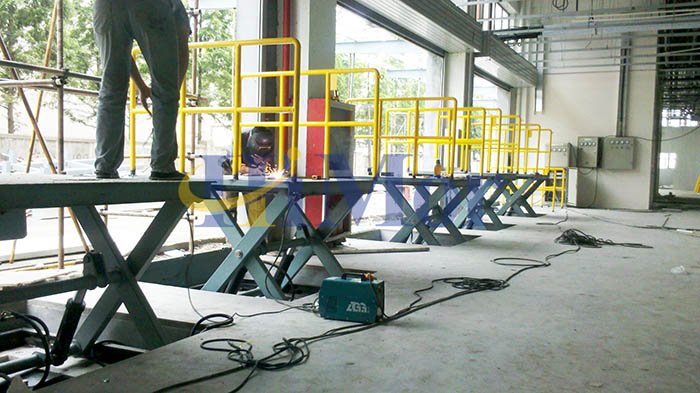 How to solve if it is hard to dig a pit for this loading bay scissor lift?
Our first solution is to make a ramp aside the lift. This solution is suitable for one layer scissor lift and self height is lower than 400mm. If customer normally use forklift to put goods onto the lift table, this solution is no problem for goods or pallet lifting. If customer needs to push or pull a pallet onto the table, please check with second solution below.

Our second solution is to design the lift as low profile hydraulic truck dock scissor lift. Normal design of the scissor lift is using steel tube, so the lift self height is normally higher than 300mm. When designing low profile scissor lift, we use steel plate rather than steel tube. After production, the lift self height is usually around 150mm. This height is small enough for a trolley going onto the lift table. At same time, we also need to make a ramp aside the lift.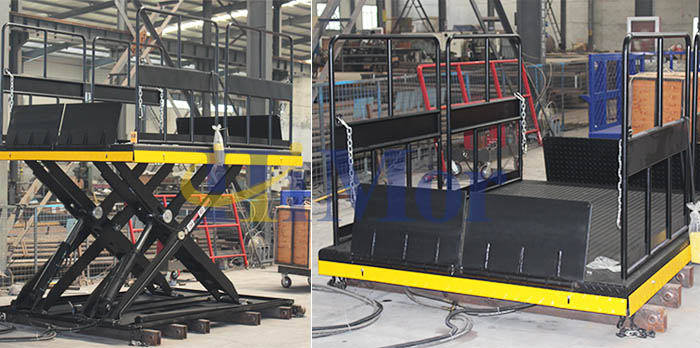 Welcome to customize truck loading scissor dock lift from Himor lift. Just tell us your requests like table size, capacity, lifting height, dig a pit or not and other requests, our engineer team will make design and give you best solution. Our design range is height from 300mm to 5 meter, capacity from 100kg to 100ton, platform size from 500mm to 30 meter. Our production time is around 15-30 days, including lift testing and packing. Review more detailed information from one of our product page: scissor dock lift.