Wheelchair lift elevator for home is a small and compact size vertical hydraulic platform lift. It is a economic choice for residential people lifting between floors.
Himor produces wheelchair elevator heights from 1 meter to 15 meter with standard capacity 250 kg. Our standard cabin is half cabin with size 1000mm by 1430mm. If you need full cabin or customization, we all can design and produce.
Cheap choice for small outdoor wheelchair lift elevator for home
According to different height, Himor wheelchair lift prices are thousand dollars only. It is economic because of simple structure and durable application. We received many popular feedback from our clients all over the world. Some people purchase for elder people lifting, children lifting or wheelchair lifting. If you have a house that is around 2-4 floors, himor lift platform is your best choice.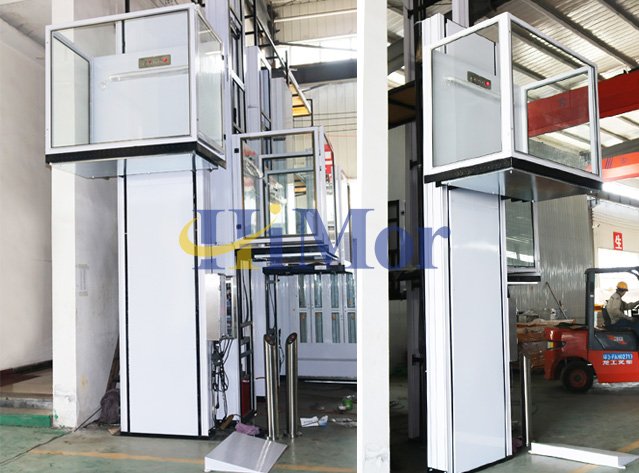 Wheelchair elevator good looking cabin
Himor wheelchair elevator uses glass for the cabin wall and cabin doors, which are showing good appearance. Different from other brands' PVC cabin wall and doors, we use toughened glass, which is obviously stronger and not going to out of shape after years usage.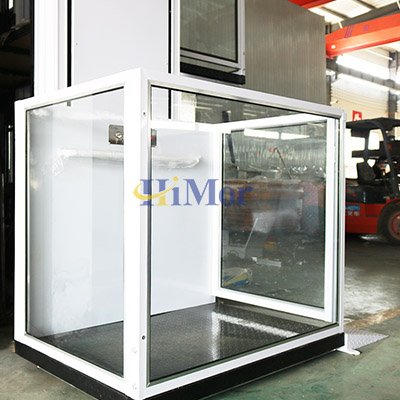 Himor Lift Easy installation
Himor wheelchair elevator for home is easy to install in the sites. There are two major parts, drive tower and cabin. We normally separate the drive tower and cabin for smaller packing and saving shipping price. After clients receive the lift, they can assemble the drive tower and cabin together by following Himor's detailed installation instruction. We put all the photos and steps required leading each client to finish the installation. At the same time, we provide the fix materials used during installation.
In general, if you are worried about the up and down stairs, please contact himor's sales team. We will make detailed solution and suggestion according to your situation. A good choice is to save your costs and give you safety experience. Please read more safety information from our page: WHEELCHAIR LIFT