Residential wheelchair platform lift project brief introduction
Brand: Himor Lift
Cabin travel height: 2.7m
Capacity: 250 kg
Cabin space inside: 900mm*1330mm
Material: Aluminum alloy and glass cabin
Installation country: Thailand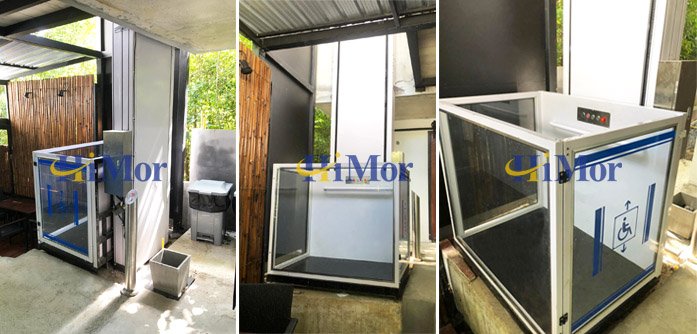 Residential wheelchair platform lift is hydraulic system lift platform with cabin for safety. We also name it as wheelchair lift, disabled lift or PWD lift. People mainly use it for 1-2 person lifting and wheelchair lifting. Because it owns safety design like safety sensor, emergency decline, and manual down when power cut, more people use it for residential purpose. Below is a brief introduction of this project in Thailand.
One of Himor's client finished installation of 2.7m Residential wheelchair platform lift installed in Thailand this August. This lift is outside installation and half cabin. Below are the main steps of this project until finish installation.
Residential wheelchair platform lift project process
First step, lift size confirmation
There are two situations of lift size confirmation. One situation is the installation space is no limitation, so we can produce the wheelchair platform lift as our standard size (900mm*1330mm). The other situation is the installation space is narrow, then we need to confirm the space size firstly, and then design the lift size as per the space size. After our engineers calculation, we can get a suitable lift size to fit the space very well.
Second step, cabin travel height confirmation.
Cabin travel height is from bottom ground to last stop ground. Client needs to do measurement of the site height. Many clients ask whether they can adjust the travel height after it arrives the site. Our answer is yes. We leave around 5cm height adjust range for each lift. For example, if the cabin travel height we set is 3m, and it is 3.05m when actually installation, then client can adjust themselves.
Third step, order process
Order process is quiet simple. Client make payment by following the payment invoice Himor send to them. Normally we accept T/T payment through the bank. After payment, we start production immediately. All lifts take around 20-30 days for production.
Fourth step, lift delivery.
Because the lift size is big, we only can deliver it by sea. Normally if the packing size is shorter than 4m, we will deliver the lift by LCL (less container load). If the packing size is more bigger, we need to ship it by FCL(full container load).
Fifth step, lift installation and test
As we are in China, it is hard for us to send installation team to clients' local. So clients install the lifts by themselves. The premise is that we provide complete installation materials.
Residential wheelchair platform lift free ask questions.
1. One question that customer may ask is what happens to the wheelchair platform lift if there is a power outage?
First of all, if the power outage happens, the lift will stop to working. All the controllers like remote controller, panel controller, and calling box controller will fail to work. Under this situation, if you are in the cabin, you can call somebody to manual down the lift by one emergency decline valve. By loosing the valve, the cabin will decline slowly. After the electricity is back, people needs to tight the valve back.
2. The other question is that whether the lift is safe if somebody standing under the cabin?
As sometime we install the lift in open area, there maybe some obstacle or people standing under the cabin. So we add sensor under the cabin, which is whenever anything touches the bottom, the lift will stop from working immediately. With this safety feature, even clients install the lift outside, it is safe enough.
3. Thirdly, people may ask is the installation process difficulty?
This residential vertical wheelchair platform lift installation is quiet simple also. Himor will give clients installation instruction and many installation sample photos for reference. Clients need to find 3-5 workers and electrician to finish the job. Basically, people only needs to fix the drive tower with wall, and fix the bottom with cement ground. All the electricity wires are matched by pair plugs, and only need to insert them one by one.
Conclusion
If you need a simple lift for elder people, disabled people, or wheelchair, you can purchase Himor's residential wheelchair platform lift. It can be a good alternative to a household elevator in some situations. Let's say, the site space is small, lifting height is small, or your requested capacity is small, our platform lift is your best choice. Many clients who owns a villa of 2-3 floors choose this type lift for both indoor and outdoor application. Contact with us now with your residential lifting request, we will take out a design with drawing for the solution.