Outdoor residential vertical platform lift Project introduction:
Position: Garland UT, United States
Lifting height: 5m(16feet and 4 inches)
Stops: 3
Capacity: 250kg
Input voltage: 220V, single phase
Installation: Outdoor
Access: straight get through
Doors on cabin: folding type on access sides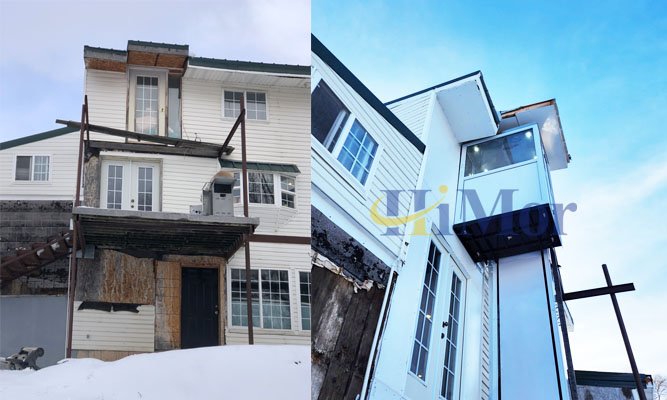 Outdoor residential vertical platform lift order process
Lift customization
Mr. Coy found our website from google and left message to our sales. As we design each lift according to customer's site, we need to discuss with client about the site situation. Mr. Coy sent to us his house photos for reference. We found it is outside lift platform and 3 stops totally. So we discussed with owner the exact height of each stop.
Outdoor full cabin wheelchair lift installation
Temperature is quiet different from summer to winter in the site. We advice customer to use different hydraulic oil from summer to winter. Actually outdoor installation is easier than indoor installation. It's easier to find fixed points for exterior platform lifts, and there's no space limitation. The customer directly adopted our standard cabin size: 1430*1000*2000mm for exterior usage. If indoor installation, we need to consider the shaft size, and then the lift dimension might be smaller.
Best overseas service
Customers' concern for importation from China is the exterior lift platforms installation and after-service. In order to give 100 percent oversea service, we made very detailed installation manuals, photos, and videos for customer install the lift. Before order and after order, we assist clients in each detailed issue. Below is the customer's feedback during this project.
"I am glade you caught the 1 phase yes that is correct.
Every thing looks good on the manuals.
The warranty is acceptable thanks.
As for the payment. My finance advisor suggest I use the money transfer
you suggested earlier. Send me the information you need and I will get
that started and get it to you."
After installation
We will keep an eye on installation after each order. In case any helps needed from Himor team, we will solve instantly. Below is the feedback from Mr. Coy after installation:
"Hi Celine: This is Coy. I finally got the elevator installed and it is looking good. I only have one question at this point. How do I increase the down speed? The up is good it is just the down is slow. It has been good working with you. Happy New Year to you and yours..Thanks Coy"
We wrote back immediately for the solution, which is just need to adjust a small device on the lift, then the decline speed will be faster.
Conclusion.
We know that about more than 80% of customers do not know about outdoor vertical platform lift, even for the first time. So we need to be strict about all the details. Including negotiation details, order details, shipping details and installation after sale details. Only in this way can customers have 100% rest assured about our products and services. Also we welcome residential vertical platform lift customer to check with our quality by person or third party. If you need any lift solution for people, wheelchair, cargo, and cars, please talk to us.