Trailer mounted boom lift
Trailer mounted boom lift Model: HBL-16
Capacity: 200kg
Platform clean size: 900*700mm
Platform lifting height: 16m
Supporting: four hydraulic legs
Boom control: Digital display screen on ground and control panel in lift bucket.
Power resource: AC+DIESEL double mixed power
Color: Orange
Trailing: manual move by trailers
Trailer bar brand: European brand
Rotation: 360 degree constantly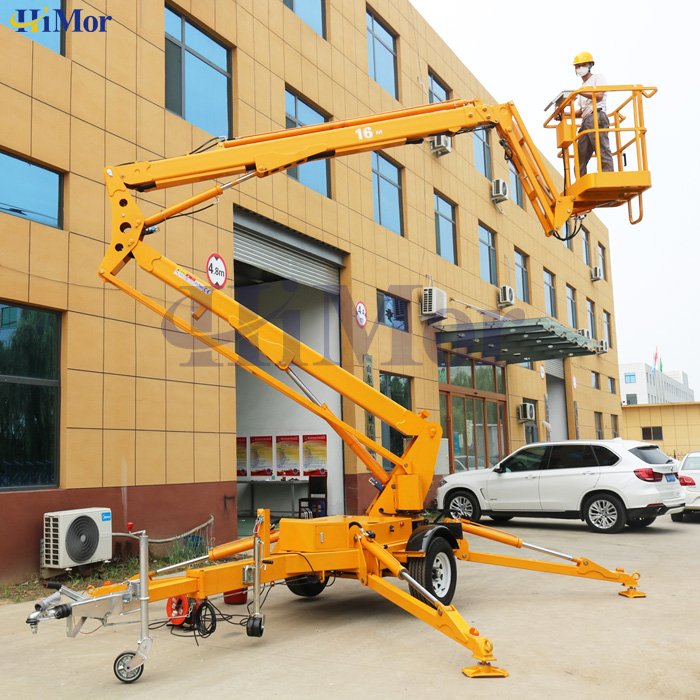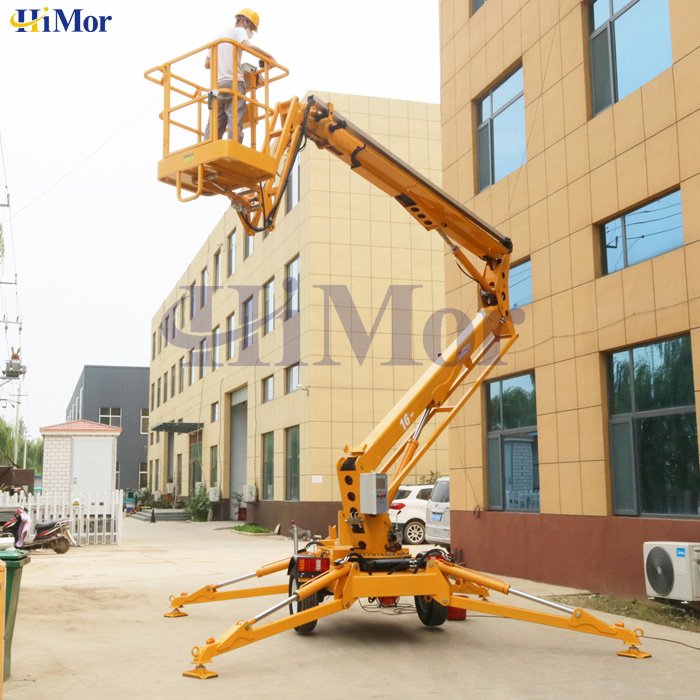 How does trailer mounted boom lift work?
Trailer boom lift is one type of boom lifts. It's job is to work in aerial positions, such as window cleaning, building cleaning, wall painting, lights maintenance, cherry picker and electric lines maintenance etc. We fix booms on the trailer and can tow the boom lift away when do not use it for aerial working. As it has four legs to support the whole body, looking like a spider, we also call it spider lift or trailer mounted spider lift. Before aerial work, people need to open the hydraulic legs and support the lift. Then we can operate it to lift up, rotate and lift down.
Can it rotate 360 degree constantly?
Yes. Himor brand trailer boom lift is 360 degree constant rotation. Some other brands may only 359 degree rotate. This is a advanced feature of himor boom lift.
How to deliver the trailer boom lift?
We can load the lift into 20ft container for sea shipment. Meanwhile, we do all fix jobs to make sure the lift is steady fixed in the container. If some models is bigger than a container, we can separate the bucket from the lift body. When it arrives customer's places, they can install the bucket back.
Can you make the boom lift self walk?
Yes. We can add assist walk device to the wheels. People only need to guide the direction, and make it walk by remote controller. Any more information, please talk with our sales team.
Many of Himor customers purchase this lift for self use, trading or rental business. Welcome to be our partner in your local. Please contact [email protected] and whatsapp: +8613026586830 to get more information.