Himor towable boom lift for tree work is a qualified and popular aerial lift. Aerial working platform's operation principle is complicated than other small vertical man lifts. This type trailer mounted boom lift can apply for tree cutting, cherry picking and other fruit picking. In some places, people call it cherry picker. Here we list the important steps of how to use Himor towable boom lift for tree work. Please follow the contents and read them one by one. To be more clear during reading, please read our lift details from this page: TOWABLE BOOM LIFT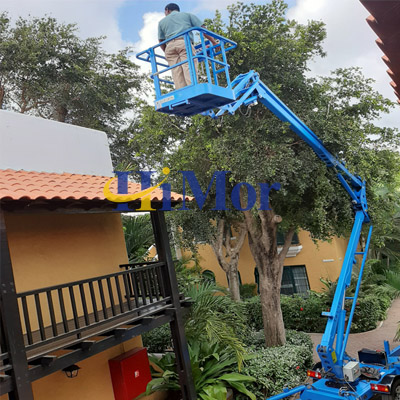 Article Contents
First step: Choosing right position to park the towable boom lift
Second step: Checking lift status before operation
Third step: Opening the boom lift hydraulic outriggers
Fourth step: Climbing onto platform and fix the safety belts
Fifth step: Start to operate lifting up and turn around
Sixth step: Storing back the booms after work
First step: Choosing right position to park the tow behind boom lift
We need to choose concreted ground to park the boom lift on. Because maintain balance is important to the lift working. The four hydraulic outriggers should on same level. If any outrigger gets into mud, the lift will loose it's balance and fail to work. In some serious cases, the lift will fall down to the ground. So it is the most important thing to park the towable boom lift for tree work on concreted or hard ground. The safety roles regarding aerial lifts write that if the lift has outriggers, the outriggers need to full open before working. And people are not allowed to go into the platform until the outriggers are open. If the lift is self propelled types, then do not need to follow this requirement.
The second factor we need to consider when choosing the position is the space. Because the lift's self dimension is around 5m – 6m, so it must have enough space to park the lift. Also Himor boom lift's rotation is over 360 degree, which means we do not need to turn back after 359 degree. In this situation, choose a right position, you can work for 360 degree around.
Second step: Checking towable boom lift for tree work status before operation
Himor will provide maintenance manual for your correct operation. So please read it and check the lift status before aerial working. Important parts to check with are power units, hydrualic oil tank, folding boom bots, electric wires and oil tubes etc. On the first try, the basic work is to add enough hydraulic oil to the tank. In the summer, we suggest to add 46# hydraulic oil, and it is better to use 32# oil in winter. If any part are not in good connection, need to fix them before operation. If all parts are good, connect the power units. Himor's hydraulic boom lift's standard power resource is electric AC power. So we need to connect the site power input. If your lift is diesel or gasoline power, you can turn on the power switch directly.
Third step: Opening towable boom lift for tree work hydraulic outriggers
There are four hydraulic outriggers for safety supporting. We use strong performance steel tubes with hydraulic cylinders to make outriggers. And because it looks like a spider when open, people also name the lift as spider lift or spider platform lift. After connect the spider platform lift's power unit, we can open the four legs by operation the handlers on lift body. These four outriggers will take place of the wheels and lift up the whole lift body. This supporting method helps with the lift keep steady during aerial working.
Fourth step: Climbing onto platform and fix the safety belts and helmet
By following the ladders on platform, we can climb onto the work cage easily. After go into the access platform, put on your safety helmet and fix your safety belts with guardrails. Aerial working is a dangerous work, and safety is the most important part. We all know that workers need to be trained before aerial working. People can read our instruction manual carefully before aerial work.
Fifth step: Start to operate lifting up and turn around
After we finish the preparatory work, need to check with the control panel and try to lift up a little. In some situation, such as winter, the oil situation is too cold to work. So at this time, we need to do some test and warm up and motor. You can lift up and down a little, and longer after a while. Doing this testing some times, then start to actual work. If the control panel works well, we can start to operate it. The lift can lift up and down, stretch out and back, and turn around. These operation instructions are written clearly on the control panel. People just need to choose which button you need to press. There are two controllers in total. One is control panel on access platform, the other is general cabinet on lift body. So people can control the platform both on platform and ground. Himor trailer mounted boom lifts can reach height from 10 meter to 22 meter, and working radius from 5.5 meter to 11 meter. So you can choose from different models.
Sixth step: Storing back the booms and stow the lift after work
People can stretched back one by one after work until they reach bottom. As this lift is towable aerial lift, we can tow the lift behind trailers or trucks. There is a trailer bar for you to fix the lift with your trucks. When aerial working, the trailer is locked by trailer hand brake. After working, people can unlock the brake and trail the lift away. We add tail lights on the lift tail, which connect to the brakes of your car. When you brake on the road, the boom lift tail lights will turn on. If you need to deliver the lift to near place, you can trail it directly, and the speed can be 40km/h. If you need to deliver the lift to far away places, you can fix this lift on a trailer to deliver. It is better to stock the lift in warehouse stay away from rains.
Towable boom lift for sale popular models are HBL-12, HBL-16 and HBL-20. Himor trailer boom lifts gain CE certification and are popular in European and American countries. People purchase it for personal use, tow behind boom lift trading, or towable boom lift rent business. It is a better solution that people rent it to others when do not use. Please leave message to us for price terms and any other technical questions. And welcome to follow us on FACEBOOK.
GET A QUOTE NOW