Cheap small goods lift elevator here we are referring to hydraulic system lift platform for goods or cargo. To distinguish from heavy duty hydraulic lifts, the small lifts are smaller in capacity and platform size.
How to define small goods lift elevator?
Capacity is normally smaller than 1000kg (2200lbs). Around 90% small goods lifts we produced are lower than this capacity. Some other special designs are not in this range.
Available platform size is normally smaller than 1.5m*1.5m (59inch*59inch). Mostly people use this lift at home, in plant, and shop to carry small goods. So the platform size is not much big.
The most obvious feature is that only one side has rails. If it is one side rail, only need to fix one side onto the wall.
How much does a small goods lift cost?
Firstly, the small goods lift elevator price is determined by its specifications. Like platform size, capacity, and platform travel height.
Secondly, the price is differently from company to company. For example, if the lift lifting height is 3m, some brand costs only thousands dollars, but some brand costs more than 10,000 us dollars. The level of national economic development and the production level of the company determine the price of products. It is a good choice to purchase from China, who's prices are reasonable than some other country.
Where to buy cheap small goods lift elevator?
Himor brand small goods lift elevator is a cheap choice for both residential and industrial purpose. Based on more than 20 years' production and export experience, Himor has been focus on adjusting our manufacturing technology and produces strong performance goods elevator with cheap cost. As we changed most of the production to high-end mechanized production, greatly reduced the various labor costs and material loss. Below are the reasons why our lifts are cheap.
To save material cost, we purchase and store steel material in large quantity from steel company.
To save labor cost and make sure the material parts are precise, we cut all the steel materials by laser cutting machine.
Also in order to save labor cost and make durable painting, we use spray plastic booth to do painting for all the parts. After been powder coated, the surface painting will last for long time.
One more reason to choose Himor brand cheap small goods lift
We do pre-install for the small goods elevators in our workshop. Before delivery, we will fully test the lift materials and do pre-install. After the lift is vertical and fixed, we will test the lift platform to lift up and down for many times. Below is a normal working scene of a 3.8m goods lift pre-install for your reference. At the same time, we will send the pre-install photos and videos to customers. Once anything needs to modify, we will discuss with customer and process the following work.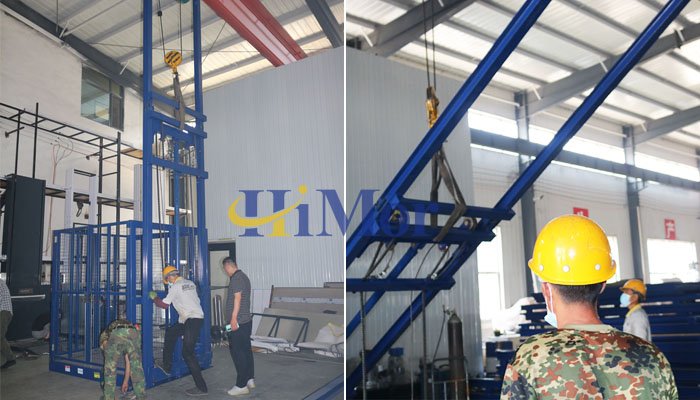 Review more details regarding from our product page: SMALL CARGO LIFT>>>
If you are going to purchase cheap small goods lift from Himor, please contact soon. Email: [email protected], whatsapp&wechat number: +86-13026586831. Our professional hydraulic lift sales team will discuss with you all the details online.
GET A QUOTE NOW