There are many kinds of high-altitude operations in modern society to facilitate everyone's high-altitude construction operations. If we distinguish them by prices differences, it can be roughly divided into automatic driving aerial work platforms and towable or manual move aerial work platforms. Himor Lift company, which has decades of experience in design and production, has also developed a variety of economical aerial work platforms. This article is only used as an introduction to the integration of economical aerial work platforms. If you want to see more details, please check our product pages.>> Aerial Lift
Article contents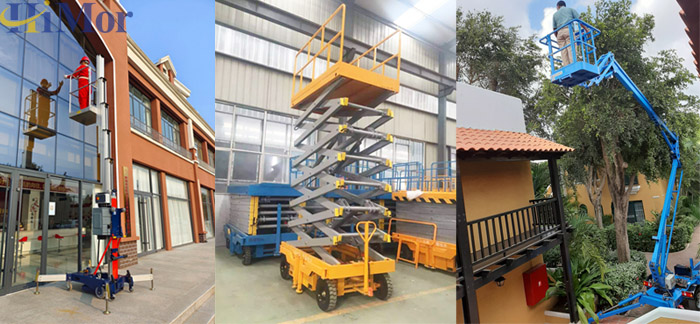 1. First Type of aerial work platforms: Vertical Mast Lift
5m-12m platform height/One Man Portable/Compact sizes 
Vertical mast lift here we refer to the cheaper type manual move vertical mast lift. It is suitable for one person lifting up&down&move around. With small and compact size, people can use it in narrow places. This equipment price is around $2,000 and $5,000 dollars, which is cheap for aerial working equipment. An other feature of mast type lift is portability. The main material for the lift is aluminum alloy, which is is light weight, strong and durable, and will not be rusted.
2. Second Type of aerial lifts: Mobile Scissor Lift Platform
5m-18m platform height/500kg capacity/Manual movement 
If you need bigger capacity lift platform to carry 2-5 people, you can choose Mobile scissor lift platform with lower costs. Most models cost between $2,000 and $5,000. People can choose the power resources from AC, DC and Diesel. An other feature of this lift is durability. It owns 2 wheels and 4 outriggers strong enough for long time usage.
3. Third Type of aerial platforms: Towable Boom Lift
10m-22m platform height/360-degree uninterrupted rotation option/Large horizontal working span
When you need to work with large horizontal span, you may choose this Himor towable boom lift. Like wall painting, tree cutting, lights maintenance, and other aerial work. This trailer mounted boom lift is a classic design of Himor company. Compared with other brands, Himor brand uses stronger and more durable steel structure materials and safer hydraulic systems. Even the tractors we use are European brands. The dual brake system brings customers a safer experience. This equipment costs only $9,000-$20,000, which is far lower than self propelled boom lifts. In some special cases, it is a very good substitute. The reason why we say this machine is economical and practical is because other self-propelled aerial work equipment is more expensive, which will cost more than 30,000 US dollars. If your job site requires the working height to be lower than 24 meters, then please choose this machine.
Conclusion
Under the current economic conditions, we need to consider using some economical working equipment in order to save costs. The above three types of aerial work lifts are all low-cost and durable lift platforms. Although they do not have a complicated walking system, they are still the tools we can choose for aerial jobs. Whether you are using it yourself or renting it out, they are a great choice. Simple and cheap lift platforms does not mean backwardness, they means we have a very good choice in some cases. To know more about Himor lifts, please visit our product pages. Welcome to leave a message to tell us which kind of lift you need. We will provide you with better service.
TELL US YOUR REQUEST